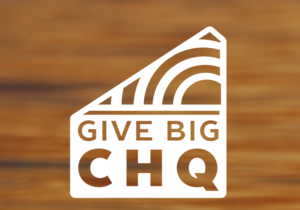 Click this button on June 13th to give directly to CHH!
Support Community Helping Hands on June 13, 12AM – 11:59PM.
Give Big CHQ is a 24-hour online fundraising event designed to raise as many dollars as possible for local nonprofits across our region.
This extraordinary event inspires people to come together, show pride in their communities and support local organizations and causes they care about.
Why give on June 13th? Donations received will help us place donation drop off locations throughout our community, to keep clothing donations local.
Last year, we supplied more than 2,500 people with essential clothing and household items. Unfortunately, we are not receiving enough clothing donations to meet the growing needs of our community. Our solution is the have drop boxes in strategic locations throughout the community to make it easier for you to donate your "used but usable" items and ensure these items stay local.
Did you know that all donations to Community Helping Hands stay local to help others in Chautauqua County? You can give confidently to CHH, knowing that your contributions are giving a "hand up" to your neighbors in need. Approximately two thirds of those we assist are children under age 18.
Together we can make a difference! Together we can Give Big!